Calder Valley Voices sing for pleasure and joy!
Our aim is to pass on our happiness in this and extend a welcome to anyone who wishes to join us.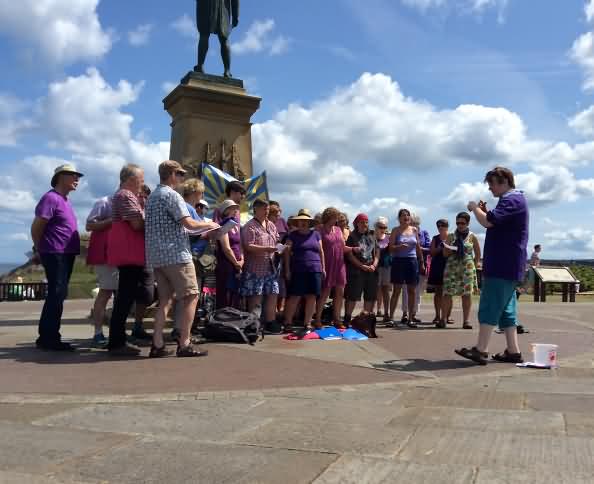 Of course this last year has been very different for all. We have, though, continued our weekly practice sessions with Carol Donaldson through Zoom and have even made a couple of recordings – Motherland and Love is the Power both by Helen Yeomans.
Motherland
Adam Finch made the film Motherland in November 2020 during a short spell of distanced singing sessions, with a number of choir members still joing us via Zoom. This felt like a huge triumph with Carol bravely leading us into new technologies and of course, most importantly, many new songs.
Our repertoire
The range of music we learn and perform is vast and varied. Many of the songs we learn are from the natural voice tradition. This includes traditional folk, world music, religious, celebratory and a number of songs composed and written as a collaboration with Carol Donaldson our Musical Director and the whole choir.
Here are three recent performances:
The Summer Concert 2019 and two new songs – Motherland 2021 and Love is the Power 2020, by Helen Yeomans.
We are excited to be continuing and still developing our skills as a choir through many formal and informal performances. We enjoy singing and offering our voices anywhere!