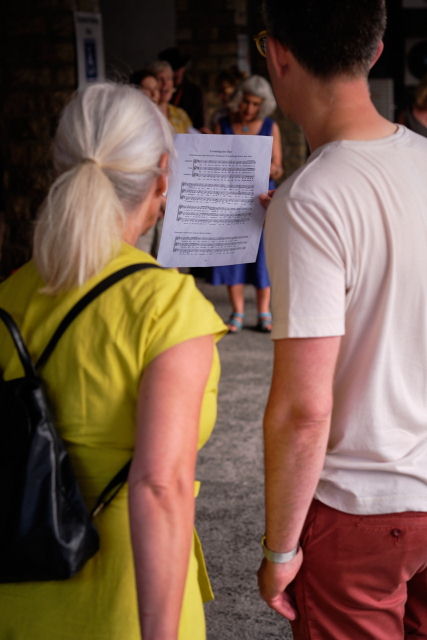 Calder Valley Voices
Welcome to Calder Valley Voices! Singing for joy, singing from the heart.
Whe we are and what we do
We are a friendly, not-for-profit community choir. Everyone is welcome.
Calder Valley Voices aims to be open and accessible to all living in the area around the Calder Valley and further afield. It is committed to combatting oppression or discrimination whether on the grounds of race, gender, age, sexual orientation or disability.
Our regular session is on Thursday 7.15 – 9.30 at Hebden Royd Methodist Church, 54 Bridge Lanes, Hebden Bridge, HX7 6AA. We restart on 8th September. More information and contact details are on the Take Part page.
We meet once a week for the love of singing great songs together. We learn, practise and perform songs from the world-wide community singing tradition, including songs of peace, freedom, struggle and liberation. New members are very welcome. There is no audition.
We learn our parts by ear and sheet music is also provided. You are not expected to be able to read music. We sing unaccompanied. It never feels this way, as of course we are accompanied by each other!
We encourage new members to participate in a supportive singing session. We support all members to develop their self-confidence in singing, regardless of ability and musical experience.
For more information, get in touch and come and try a session.
To get a feel for what we do, have a listen to 'Calder Valley's Rising', a song we wrote in early 2016 for relief for flood victims in the local area.
Of course, the last two years have been extraordinary for everyone. Calder Valley Voices continued throughout on Zoom and sometimes in distanced singing sessions. This was largely due to the huge energy and efforts from Carol Donaldson, our Musical Director.
The choir is supported by a number of talented members who stepped in to help. The choir continued to be an important contact for all our singers and enabled many to continue to be part of our singing community.
Since September 2021 we have had a new Musical Director – Danni Rivett. Read about her on the MD page.
Many thanks to Gerard Liston and the other people who have provided photos for this website. We are always delighted to be sent photos of our performances.